Molecular Systematics Laboratory
The
Molecular Systematics Laboratory
contains the latest equipment for high throughput DNA sequencing, including two Applied Biosystems Inc. Prism™ 3730xl automated DNA sequencers, a Biomek NX sequencing robot for automated PCR and sequence purification, three Eppendorf Mastercyclers, two MJ Research Tetrad 4-head and two Dyad MJ Research Thermocyclers for PCR. The combination of the thermocyclers, Biomek robot, and automated sequencers makes it possible for one technician to amplify or sequence several hundred reactions in a day. Each ABI 3730xl sequencer has the capacity (using POP7 polymer) to sequence 12 x 96 (1152) samples per day, and the AMNH molecular lab has two of these machines. The Biomek NX allows the complete automation of PCR purification and sequencing (on 96 well plates), thus saving the technician thousands of pipetting steps, improving accuracy and consistency, freeing the researcher to perform more intellectual tasks. This level of automation gives the laboratory the capacity to perform approximately 8000 sequencing reactions per week. A manager and two scientific assistants are employed for maintaining the laboratory and equipment, ordering supplies, training students and visitors, and generating molecular data.
| | |
| --- | --- |
| | |
| MJ Research Tetrad Thermal Cycler | ABI 3730xl automated sequencer |
The following protocols (briefly described here) are routinely used for DNA isolation, amplification and sequencing in the laboratory.
Specimen tissues are typically fixed and preserved in 95% Ethanol at –20°C prior to extractions. Genomic DNA is isolated from the tissues using the Qiagen® DNeasy Tissue Kit: DNeasy Protocol for Animal Tissues. Double-stranded template, suitable for sequencing, is prepared by PCR amplification using Ready-To-Go PCR beads (GE Healthcare), to which are added 1 μl per reaction of each 10 μM primer, 21 μl of water, and 2 μl of DNA. The PCR program consists of an initial denaturing step at 94°C for 5 min, 35 amplification cycles (94°C for 15 s, 49°C for 15 s, 72°C for 15 s), and a final step at 72°C for 7 min in a thermocycler. Specific conditions are optimized for taxa and primer pairs. PCR products are verified on 1% agarose/TBE electrophoresis gel, purified with AMPure (Agencourt®) magnetic beads, washing 2 times with 200 μl 70% ethanol before re-suspension in 40 μl RNase free water.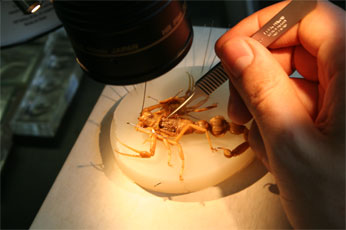 Cycle-sequencing of purified products is conducted with AmpliTaq® DNA Polymerase, FS (Perkin-Elmer) using dye-labelled terminators (ABI Prism™ BigDye™ v.1.1 Terminator Cycle Sequencing Ready Reaction Kit) in a thermocycler. Cycle-sequencing is performed in an 8 µl reaction, consisting of 1 μl Big Dye, 1 μl Big Dye Extender Buffer, 1 μl 3.2 μM primer, and 5 μl purified PCR-product. The cycle-sequencing program consists of 25 amplification cycles (96°C for 15 s, 50°C for 15 s, 60°C for 4 min). Products are cleaned using CleanSEQ (Agencourt®) magnetic beads, washing with 85% ethanol before resuspension in 40 μl 0.5 mM EDTA.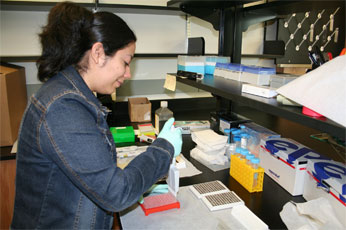 96-well Microtiter plates are loaded with 33 μl of DNA+EDTA solution, before being placed in the automated sequencer. The accuracy of sequences is verified by independently sequencing the complementary strands of fragments. If strands disagree considerably, the sample is re-amplified and re-sequenced. Chromatograms obtained from automated sequencers are edited, primer sequences removed, and consensus sequences created from complementary strands using Sequencher™ v. 4.5 (Gene Codes Corp., Ann Arbor, MI).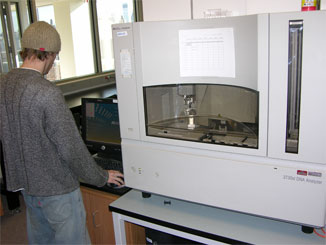 Besides the abovementioned, the following additional equipment is available in the laboratory: Eppendorf 5810R refrigerated centrifuges (2); Eppendorf Microcentrifuges 5417C and 5415C; incubators (3); Beckman L-7-65 ultracentrifuge (and rotors); New Brunswick bacterial incubator-shaker; autoclave; glassware washer and dryer; ice machine; US Filter water purification system; AL Scientific -20°C freezer; Kelvinator 4°C undercounter refrigerators (5); Fisher Scientific 4°C undercounter refrigerators (10); Fisher Scientific -20°C undercounter freezers (7); Stratagene UV cross-linker; Kodak MP-4 digital camera system; UV transilluminator and light table; SpeedVac rotary evaporator (3); Taylor-Wharton 38K Cryostorage system; digital gel documentation system processor; PowerMac MacIntosh computers (10); Pentium class PCs (5); Sequencher software licences (4).